This post provides information and tips for installing underglow LED strip kit for motorcycles M18r-T.
There is a user manual inside the sales package of our LED strip kits.
But if you need an online version, then you can read this post.
The manual inside our packages and this post offer essentially the same information.
The difference is this post has been optimized for better user experience when you read it online.
It'd be helpful to read it before installation.
Better to simulate and verify your install ideas first.
In case you need help, pick a way from the back cover of this manual to contact us.
Typically, we can help you with:
Additional items
Tips for installation
Troubleshooting
Add a header to begin generating the table of contents
1. Packing List
The package include the items listed below.
Generally, they are 3 types of items:
LED strips, 4-pin wires & splitters, and the control module.
1). 4 x 12.7" daisy-chain LED strips
2). 4 x 12.7" single-sided LED strips
3). 4 x 8.7" daisy-chain LED strips
4). 2 x 8.7" single-sided LED strips
5). 4 x 4.7" single-sided LED strips
6). 4 x 1-2 way splitters with fast locking connectors
7). 4 x 1-3 way splitters with fast locking connectors
8). 6 x 24" extension wires with fast locking connectors
9). 1 x DC 12V control box with a kill switch
10). 2 x RF remotes (Key fob + flat remote)
11). 1 x double-sided adhesive for the control box
12). 1 x velcro stickers for remotes
13). 3 x T stripping-free connectors
14). 2 x ring terminals for power supply
15). 1 x instructional booklet
2. Test before Installation
After you unbox the package, test to make sure everything is fine.
Find a power source with DC 12V (typically the battery of your bike has this voltage)
Connect the red wire to the positive and the black wire to the negative of your power supply
LED strips will go on after you press the push button on the control box for the 1st time
After you confirm everything works correctly, simulate installation to see whether wires are long enough.
If you need help, please contact DITRIO.
3. Specifications & Parameters
1). Material for LED strips: Extruded silicone
2). LED model: SMD RGB 5050
3). Input voltage: DC 12V (Workable between 10-15V)
4). Wattage: Maximum 48 watts
5). Warranty: 2-Year limited warranty
6). Control method: RF remotes, effective within 30 ft
7). Working temperature for all parts: 30 °F – 120 °F
A useful tip for estimating real wattage:
The colors of RGB strips are a combination of 3 lights – red, green and blue.
The wattage – 48 watts – is the maximum value of all the 240 LEDs when all the 3 colors are working.
Actually, RGB LEDs don't always run at their peak wattage.
The wattage is the maximum value only when they're in solid white.
Below are some approximate values based on the rule of thumb.
The real wattage will be approximately 1/3 of the peak value, when you pick one of the 3 solid colors – red, green & blue.
The real wattage will be approximately 1/2 – 3/4 of the peak value, when you pick one of the colors besides solid and white colors.
4. Tips for Applying Double-Sided Tapes
It's not difficult to stick LED strips.
But the adhesion varies depending on how you stick the tapes.
You can use the tips below for obtaining an optimum adhesion.
1). Surface preparation
Clean the bonding surfaces before application.
You can consider a solvent of IPA/water mixture.
Adhesion promoters significantly improve initial and ultimate adhesion
You can consider 3M Adhesion Promoter 111, 3M Tape Primer 94
Ideal application temperature: 70°F to 100°F (21°C to 38°C)
Minimum application temperature: 60°F (15°C)
Use a heat gun (hot air gun) to warm up tapes and the target surface if it's too cold
2). Apply pressure and wait
The double-sided tape is a kind of a pressure-sensitive adhesive.
Therefore, apply pressure for 3-5 seconds after sticking.
This will develop better adhesive contact and improve bond strength.
Better to wait for 24 hours after application before riding again.
The tapes will gain bond strength dramatically.
We've got some adhesion data from a technical document.
50% of the ultimate strength after 20 minutes
90% of the ultimate strength after 24 hours
100% of the ultimate strength after 72 hours
5. Water Resistance / Waterproof Grades
Water-resistance varies, depending on a specific part.
1). LED strips (Waterproof, IP68)
Made from extruded silicone, with the highest waterproof rating
2). SM 4-Pin Fast locking connectors (Water resistant)
Better to keep the connectors away from direct water jets
You can enhance the resistance by filling with electrical grease
3). Control box (Resistant to water & humidity)
The circuit board has a layer of conformal coating on its surface
The front and the back cover are sealed with epoxy adhesive
You can expose it if you don't have anything to cover/hide it
4) Kill switch (Water proof)
The kill switch has a new design of DITRIO, which is waterproof if even you dip it into water
5) RF remotes (NON-water-resistant)
Please keep them away from liquid water and humidity.
6. Wiring Diagram
The conceptual diagram demonstrates the positions & relations among different parts.
It helps you understand how to make install plans for your bike.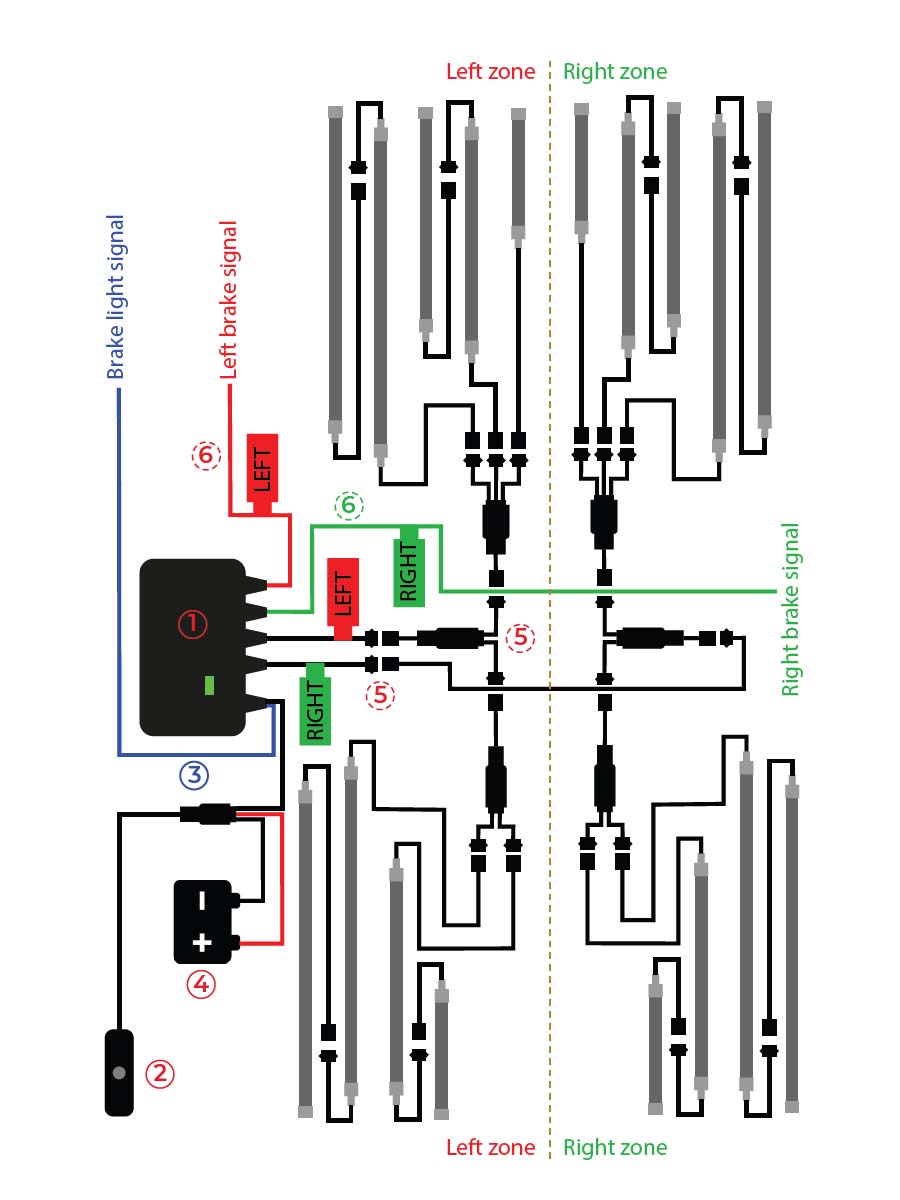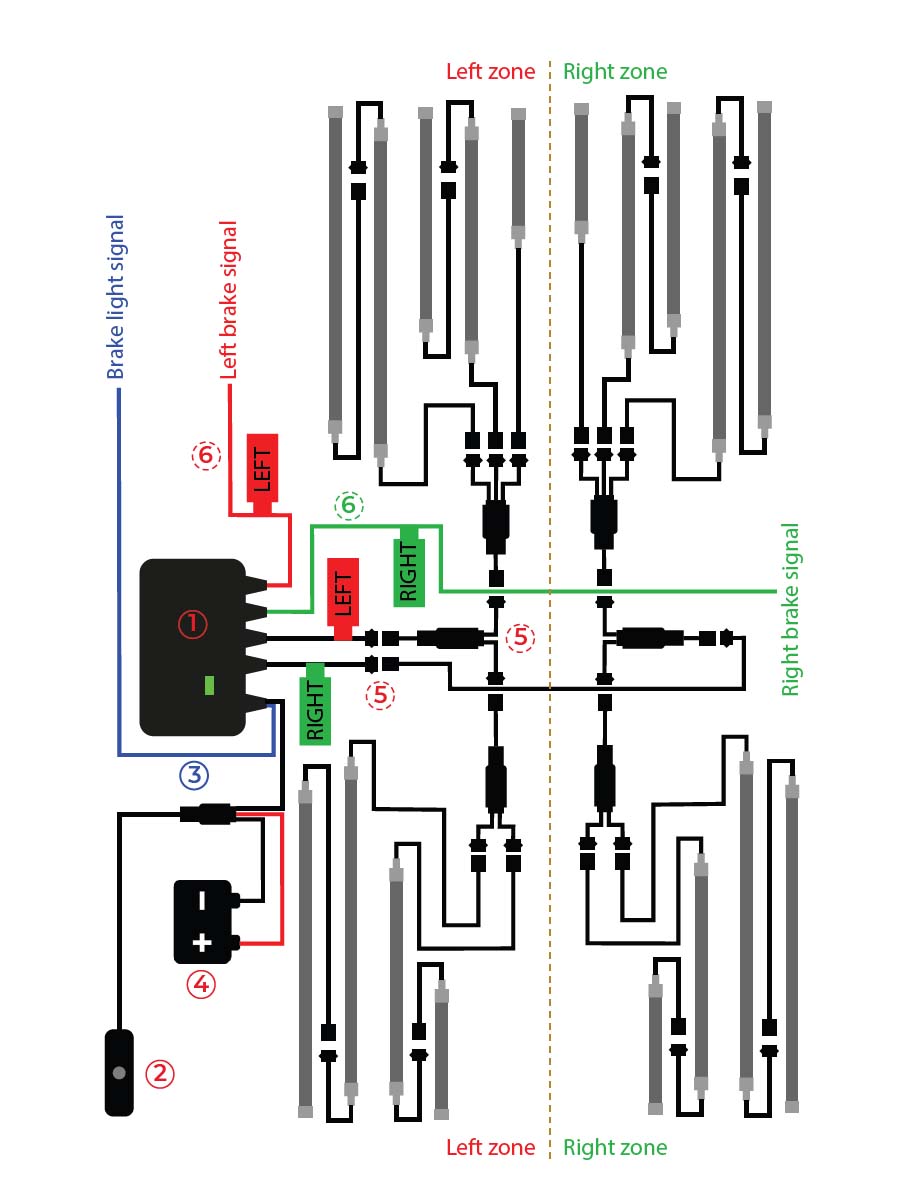 Here is a list of components indicated with numbers for the wiring diagram.
① Control box with brake and turn signal features
② Kill switch for turning ON/OFF
③ Signal wire for brake light feature
④ Battery for power supply DC 12V
⑤ 4-Pin wires for LED strips of left & right zones
⑥ Signal wires for left & right turn features
The critical point for understanding this wiring diagram is the parts marked with numbers ⑤ & ⑥.
They divide the LED strips into 2 zones.
Below are 2 key points.
A signal wire and its 4-pin wire for LED strips must on the same side.
Otherwise, LED strips blink for an opposite direction.
Use a 1-2 way splitter to divide LED strips of the same side into 2 parts.
One part for the front, and the other for the back.
This package comes with 8 daisy-chain LED strips.
Each has 2 connectors on its 2 ends for continuous connection.
You won't need to begin each LED strip from the control box.
Make good use of this design to reduce wires' bulkiness.
This package comes with 4 x 1-2 way and 4 x 1-3 way splitters.
You don't have to use all these splitters.
Just use any of them which are good for your install.
If you don't use a specific connector, leave it alone.
Tie it or cut it off and use electrical tape to seal it.
7. Alternative Layout Concept
The wiring diagram above is one of the possible layouts.
You can decide whether to follow it or try another one.
1). Simplify installation
Put 2 x 12.7" daisy chain LED strips under the tank and extend to the front wheel from there
Run the wires under the tank for a cleaner look
They should be able to save you time because you may not need to take the tank off
2). Use extension wires
If the wire of a strip is not long enough to reach your expected spot, add an individual extension wire.
The package comes with 6 x 24" extension wires, but to simplify the concept, the wiring diagram doesn't show them all.
3). Additional extension wires & splitters
Motorcycles have different sizes and LED strips are flexible to install.
A size doesn't fit all models.
It's good to map your layout and check wires' length before installation.
8. Turn Signal Feature
This LED strip kit comes with an additional turn signal feature.
It works with the original turn signals of your bike and makes your turns more noticeable.
Connect the red & the green signal wires – marked ⑥ from the control box – to the wires after the relays for the orignal turn signals of your bike
Consider using 2 stripping-free connectors to splice the 2 wires to the original turn signal wires
The red & the green labels on 4 of the wires – coming out from the control box – will help you split your installation into 2 zones – the left & the right.
You must match a signal wire and its zone to ensure the turn signal feature will work correctly.
The pigtail wire – from the control box with a red lable LEFT – should be installed on the same side with the red wire also labeled LEFT.
In this way, all the LED strips on this side will blink amber when you apply the turn signal.
And then install the pigtail wire with a green label RIGHT and the green wire labeled RIGHT for the other side.
The purpose of the LEFT & RIGHT labels is to help you distinguish the wires.
The only importance is to make sure you pair a signal wire and a 4-pin wire for LED strips on the same side.
Take either side of your bike as the left zone or the right zone, as long as it's good for your install.
9. Brake Light Feature
InfiColors M18r-T has a brake light feature, which is optional.
And it has 3 lighting styles for this feature.
You can decide whether to use or which one to use.
1). Solid red lighting style
By default, all LED strips come solid red when you squeeze the brake after you connect the blue wire to the signal wire for your rear brake.
Pick a point on the wire leading to your rear brake light after the switch, NOT before it
Two videos on YouTube may help you find where is the wire leading to your brake light
Harley Brake Switch Diagnosis
Harley Davidson Maintenance Tips – How to Test a Rear Brake Switch
After you find the wire for your rear brake light, use a stripping free connector to connect the blue wire
After you connect the blue wire, the LED kit will go red immediately when you squeeze the brake
2). Blinking red lighting styles
Now it has 2 optional flashing/blinking styles built in the circuit.
The 1st one is to make LED strips keep flashing as an additional brake signal, and you can adjust flashing speeds using the brightness button
The 2nd one is to keep LED strips flashing in a combination of flashing and solid red: flash 3 times in 1 second + stay solid red for 2 seconds (not adjustable)
Take these steps to check the 2 new flashing brake light styles:
Squeeze the brake and keep all LED strips working in the brake light mode
Meanwhile, use the 24-key remote and press the button for music mode (the 3rd button from left to right of the 1st row)
Press this button one time for one lighting style
Release the brake once you decide which lighting style to use
The circuit board will remember your choice automatically (but don't turn the system off by the kill switch until 15 seconds later – the circuit board needs time to save it into the chip)
If you are not sure, squeeze the brake again, and you will see which style you have chosen
Feel free to contact DITRIO if you need help about how to choose the blinking brake light feature.
Especially, if the description above is difficult to understand, feel free to contact DITRIO for a brief video for demonstration.
If you prefer not to install the brake light feature, you don't have to connect the blue wire. Just zip and tie it, or simply cut it off.
10. Kill Switch for Preventing Battery Drain
When you turn off the LED strip kit by either remote, all the LED strips go off and don't use battery anymore themselves.
However, the control box is still working, and uses approximately 12mA to stand by.
The purpose is to receive RF remote' signal whenever you use the LED kit again.
It'd be better if you use the kill switch to turn off the control box, whenever you don't use the LED strip kit:
It's like cutting off power supply using your scissors.
The control box (the whole system) no longer uses any battery.
Approximately, this control box may use 70% of a 5-Ah lithium battery after 30 days (depending on the health of the battery).
It'd be good to use the kill switch to turn off the LED kit when you don't ride your bike, especially for days and weeks. This helps you prevent battery drain issues (not including battery used by other electrical compoents of your bikes).
11. Self-Protective Mechanisms
The circuit for M18r-T has 2 essential features to protect itself in abnormal conditions, so it won't have issues.
The control box has an LED indicator on its front cover. You can check its working status by the indicator's flashing speeds.
Slow: the system is working correctly when it blinks slowly.
Fast: the system has a short circuit when it blinks rapidly.
1). Short Circuit Prevention
Sometimes the LED system may have short circuit somewhere after correct installation. There are 2 typical causes based on our experience with bike owners.
Wires are damaged during riding
Wires are melted after they touch the hot surfaces of the engine or the exhaust
We've built a protective feature in the circuit board. A short circuit or excessive voltage won't burn any components.
The circuit cuts off power supply automatically, and the LED indicator will warn you by blinking faster.
If you can't turn the LED strip kit on and surely it has power coming in, then check the LED indicator on the control box.
LED strips remain off, and the LED indicator keeps blinking quickly. That means your system has a short circuit somewhere.
LED strips will come on, and the LED indicator will flash slowly green after you eliminate the shortcircuit.
2). Reverse Connection Protection
This circuit board has a protective feature against reverse connection, which usually burn components on circuit boards, if they don't have a built-in protective design.
Our circuit has a protective design against reverse connection in it. If you connect the red wire to the negative of your battery and the black wire to the positive, it won't burn or damage the circuit or anything.
LED strips and the indicator on the control box won't light up.
If you see this, check the red & the black wires' connection.
Make sure to connect the red wire to the positive, and the black wire to the negative of your battery, and it will work.
12. Expanding your system
The circuit board is designed with a concept that some bike owners want a maximum of possible brightness. For this reason, it comes with potential capacity for you to add more LED strips.
1). Pack of 6 individual LED strips
This package comes with 6 LED strips of 3 sizes (the same as what you receive in the pacakge of M18r-T) and 6 1-2way splitters.
2). Pack of 4 Daisy Chain LED strips
This package comes with 4 strips of 2 sizes, which are the long one and the medium one in the package of M18r-T.
3). Pack of 2 x 2-Feet LED strips
For some motorcycles, especially larger ones like trikes and trailers, it's a good idea to install 2 longer LED strips for the unbodies, which give off more even light.
4). Pack of 2 x 3-Feet LED strips
If you want your bike to be the brightest, then LED strips of 3 feet long are definitely for you. Especially, if your bike has a long rear fender, you will catch many eyes. Nobody can say can't see you!
13. RF Remotes
This LED strip kit comes with 2 remotes – a 24-key panel remote and a 4-key keychain fob. Both are RF technology.
You don't need to point them at the control box directly
You can hide the control box and the signal still works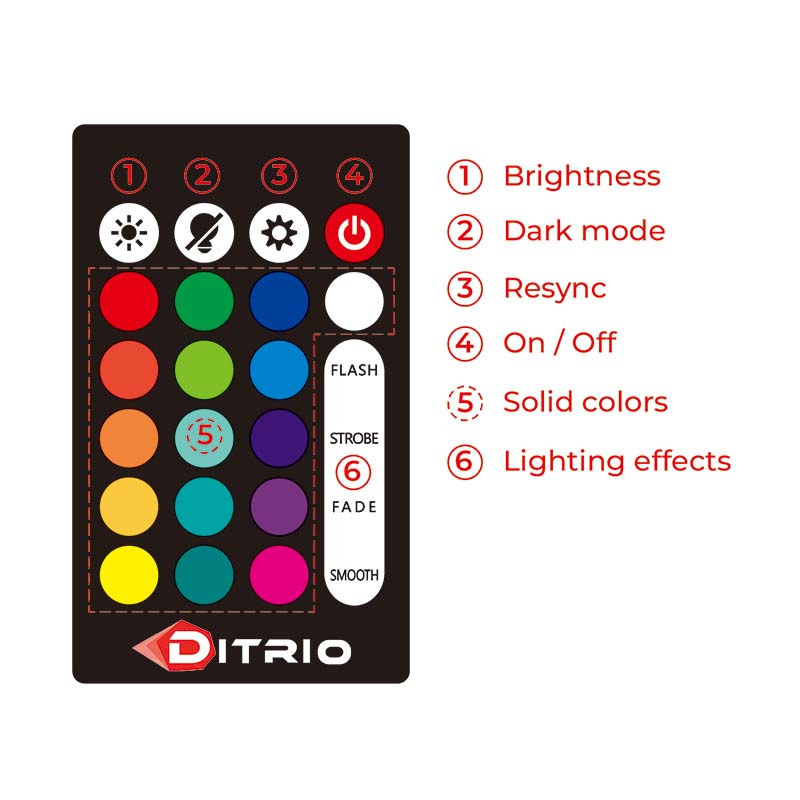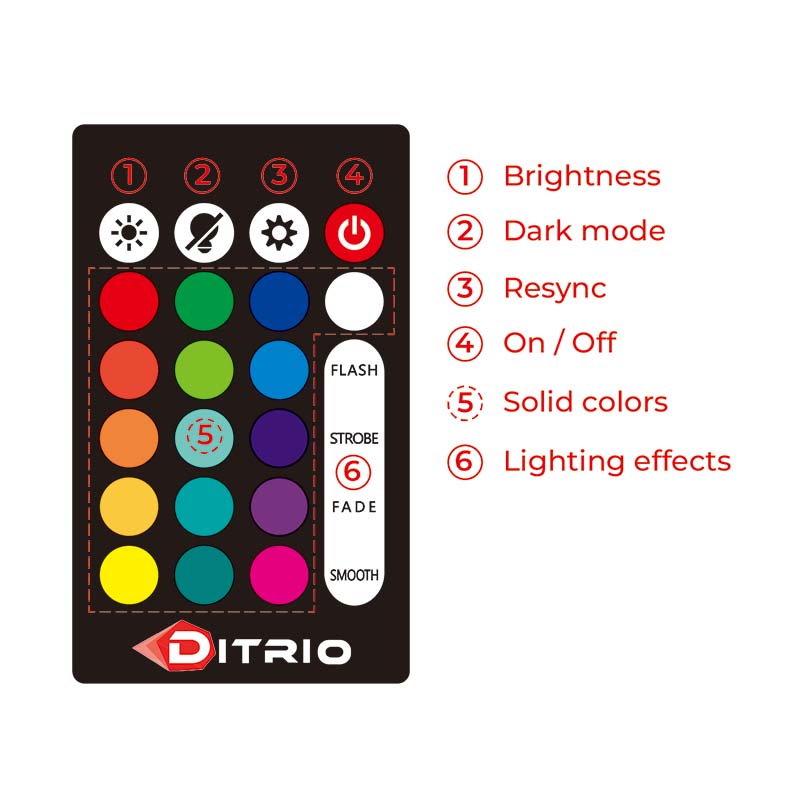 1). 24-Key Panel Remote
① Brightness: press this button to increase or decrease brightness
② Dark mode: strips go off until you press the On/Off button again
③ Music mode & Resync:
Press it alone will get the kit to work in music mode
Press the brightness button #1 and then this key #3 when starting this kit will be for resyncing this remote
④ ON/OFF: turn all LED strips on/off
⑤ Solid colors: set all LED strips in a preset solid color
⑥ Lighting effects: set all LED strips in colors of specific patterns
Flash: colors shine brightly and briefly
Strobe: colors flash intermittently
Fade: colors gradually grow faint and disappear
Smooth: colors cycle smoothly like breathing lighting effects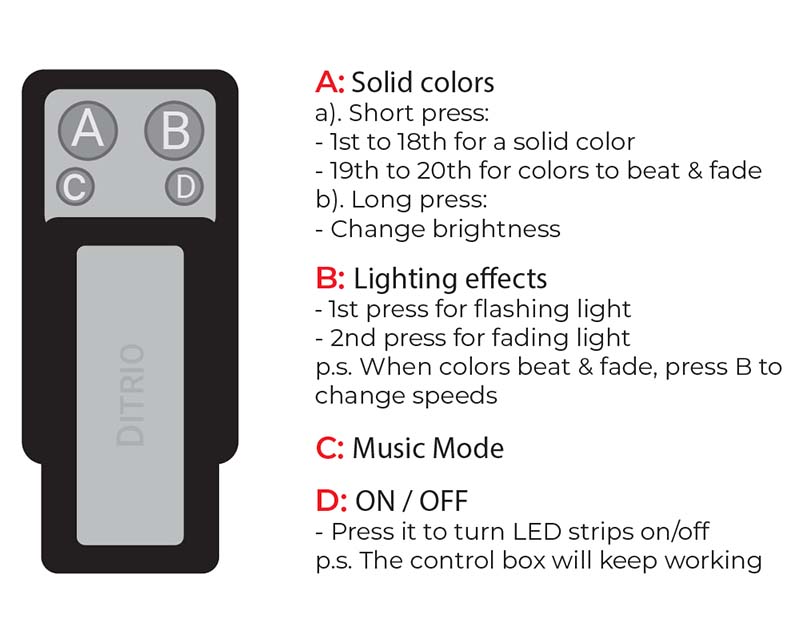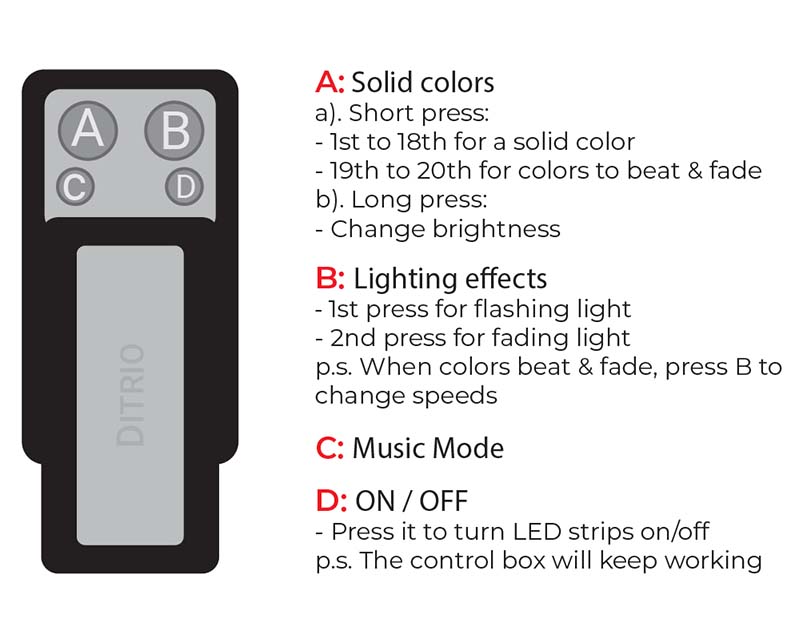 2). Key-Chain Fob
The key-chain fob offers less features than the 24-key remote, since it has fewer buttons for programming.
Use the 24-key remote if you find a feature not available with this key-chain fob.
The button D is for ON / OFF
Use buttons A and B to choose lighting effects
Use button C to make the lights interact with music
It comes with 18 preset solid colors for you to choose:
Red, Dark Blue, Purple, Green, Yellow, Ice Blue
Orange, Purple, Light Green, White, Cyan, Light Purple
Blue, Ice White, Warm White, White, Ice Green and Yellow Green
You can adjust the lighting effects based on these solid colors:
To change the brightness, press and hold key A for 3 seconds
After you press key A to put lights in beating or fading mode, press B to change speeds
Press remotes' buttons quickly
DO NOT press and hold
Short presses use battery dramatically less than long presses
14. Sync & Resync Remotes
If you lose a remote, you can get a new one from DITRIO and resync it to your control box. You don't have to replace the control box.
Procedures to resync either remote:
1). Use the to turn on the control box (not to press the ON/OFF button on a remote)
2). The LED strips will come on immediately, and then go off themselves
3). Next, they will come on again automatically and the first 3 seconds will be the time for you to resync either remote
For the 24-key remote, press the key 1 (for brighness) first, and then key 3 (for resyncing), and LED strips will blink if the remote resyncs correctly.
For the 4-key fob, press the key A first and then the key B, and LED strips will blink if it resyncs correctly.
Please do not reverse the key-pressing order, or press them repeatedly if you miss the resyncing time frame.
Instead, turn off the control box by the push button and try again.
Each maker has parameters of their own for circuits and remotes.
It's very likely that you won't be able to sync a remote from another brand to our control box.
Likewise, our remotes don't work with a control box from another brand.
For this reason, it'd be better to have these items from the same brand.
The LED strip kit comes with a pre-installed PCB fuse.
This new design of DITRIO offers an additional protective factor – heat, besides the current.
The purpose is to prevent a rare condition when the LED strip kit has a minor short circuit (like by a single copper thread).
The fuse can still detect it and react by measuring the accumulated heat.
The regular fuse in the package is a spare part.
Use it when your LED strip kit may not work and you believe it has a short circuit.