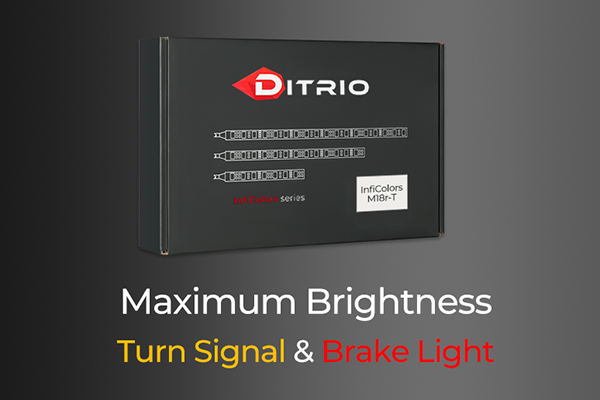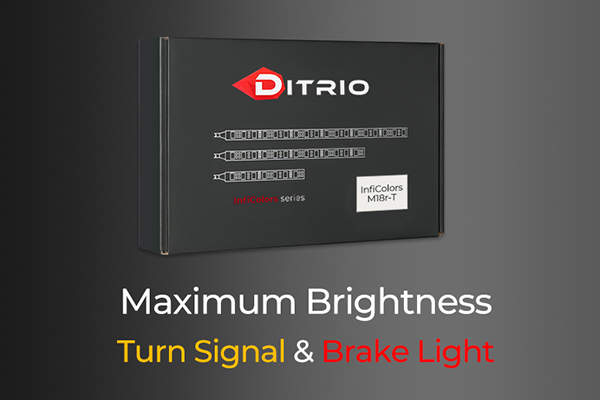 1. Maximum Brightness
Brightness is one of the top priorities for the design of this LED strip kit. Especially, we take the special considerations for larger bikes that will install more than 12 LED strips, particularly for trikes and trailers.
They have larger surfaces and wires, so it's important to assure energy efficiency and sufficient power supply from the circuit.
Choosing premium materials – RGB 5050 LEDs made of gold bonding wires – produces more light than other bonding wires made from alloys, copper wires, etc.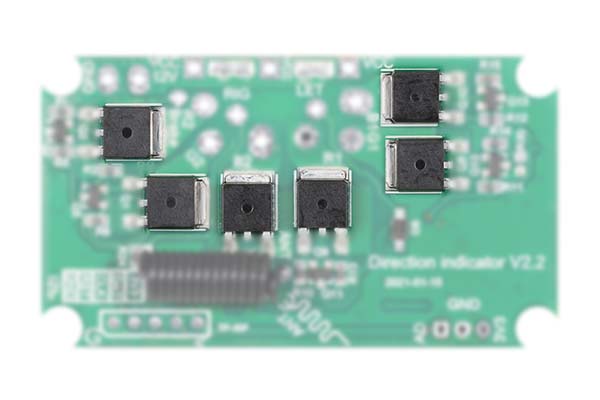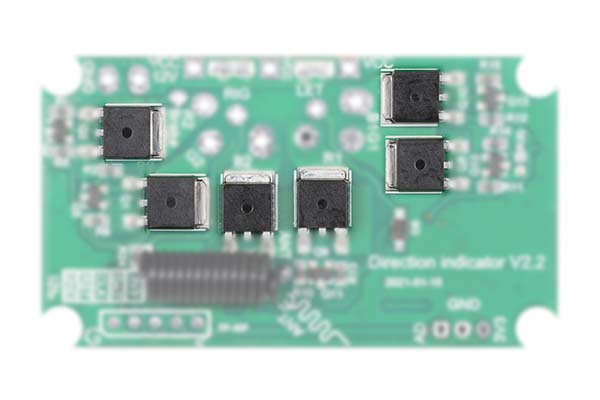 Bigger capacity: The circuit board has 6 larger MOSFETs, offering 2X capacity than the regular one. They assure sufficient power supply for more LED strips, so that you won't see the brightness decreases noticeably.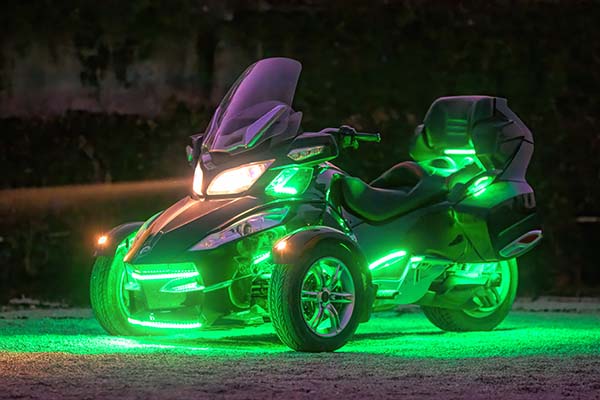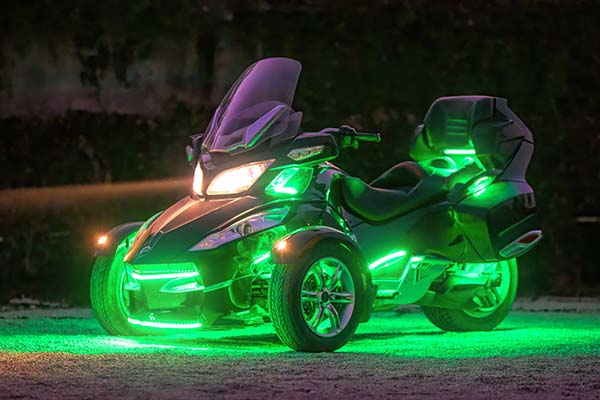 No one can say can't see you at night on the road.
2. Turn signal
There are different light sources distracting people's attention at night. Sometimes, the original turn signal lights of motorcycles are not so noticeable for other people on the road.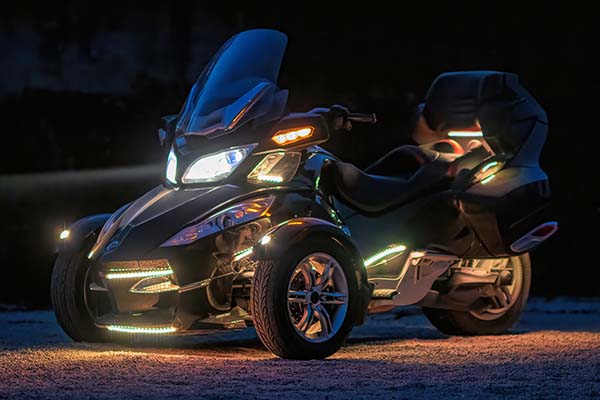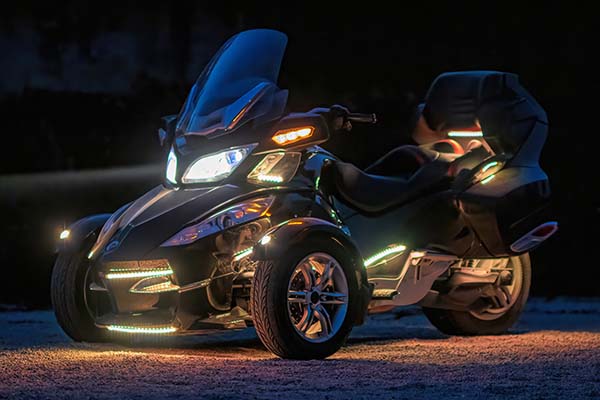 The control box divides LED strips into 2 zones – left and right. When you press the turn signal button, all strips on the same side will blink in amber, making your changes more noticeable.
3. Brake Light
Similar to the original turn signal light of motorcycles, the original brake light is not easy to be distinguished from the running light. It will be more obvious if we light up the rear of a bike.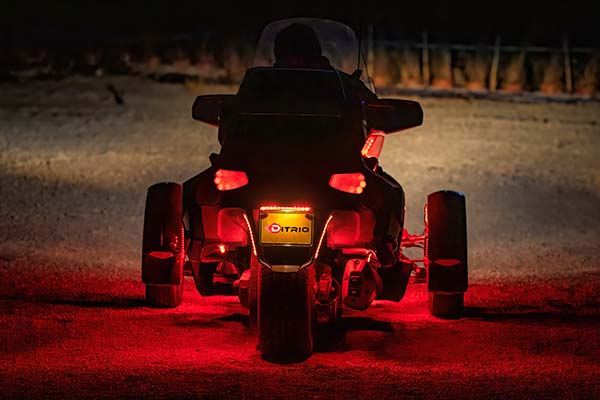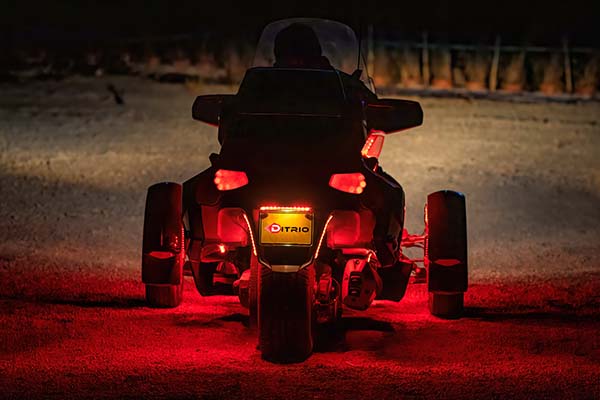 All LED strip lights will go red as an additional warning signal, when you squeeze the brake, reacting instantly, and go back to the previous setting once you release brakes.
It offers 3 brake light effects for you to choose: static red, and 2 optional flashing/blinking styles.
– LED strips keep flashing as an additional brake signal, and you can adjust flashing speeds using the brightness button.
– LED strips keep flashing in a combination of flashing and solid red: flash 3 times in 1 second + stay solid red for 2 seconds (not adjustable)
4. Daisy-Chain LED Strips
Reduce bulkiness, and easier to organize wires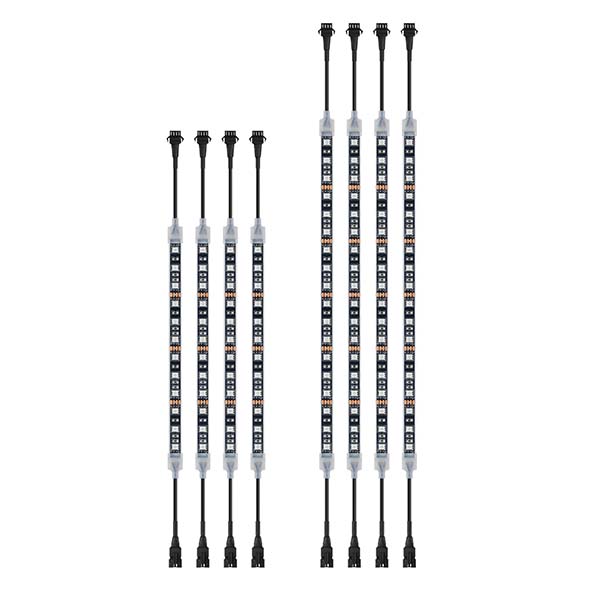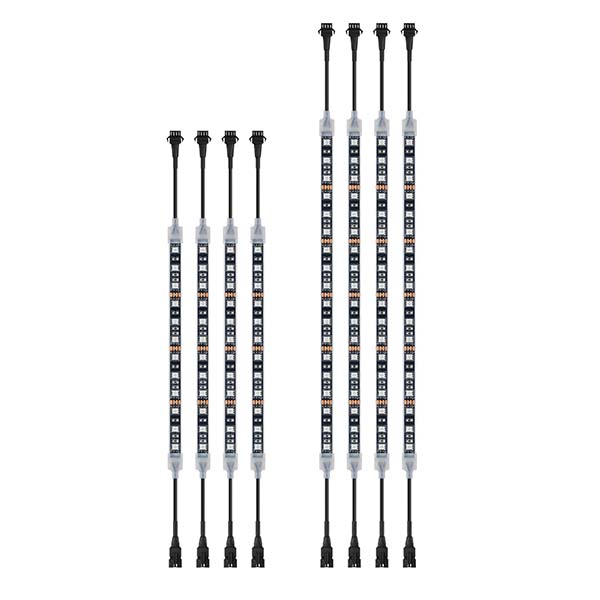 The package comes with daisy-chain LED strings of 2 sizes, and 4 pieces for each size. With these strips, you don't have to connect all of them from the control box. This may give you a cleaner look, and may save time because you might not have to take the tank off for some bikes.
5. Self-Protective Mechanisms
3 Built-in features against abnormal conditions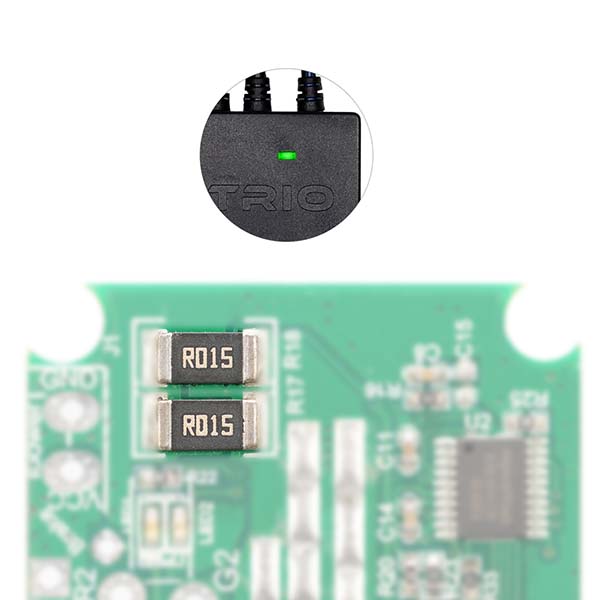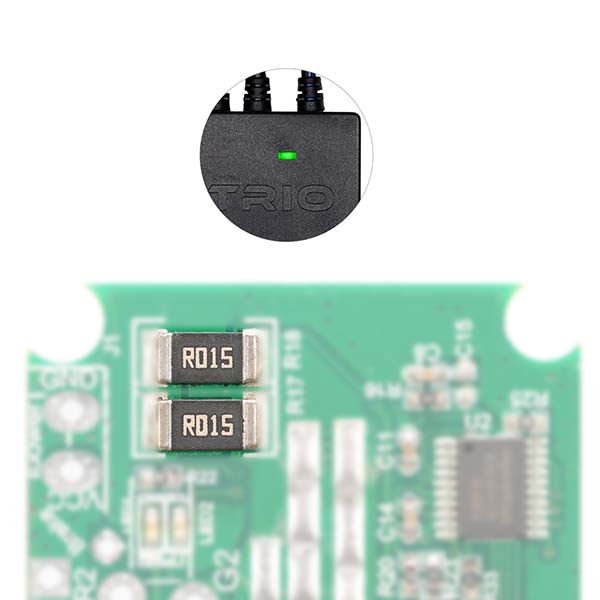 You won't damage anything in case you reverse the connection of the red and the black wires for power supply.
The circuit detects the current by 2 resistors, and it cuts off automatically when a short circuit occurs, and goes back to normal after the short circuit is removed.
The outer box has a LED indicator. It provides visual indication for working status – slow blinking for normal working, fast blinking for short circuit warning, and remains off for reverse connection.
6. Music Mode
Sometimes, it's nice to have the light beat with your music.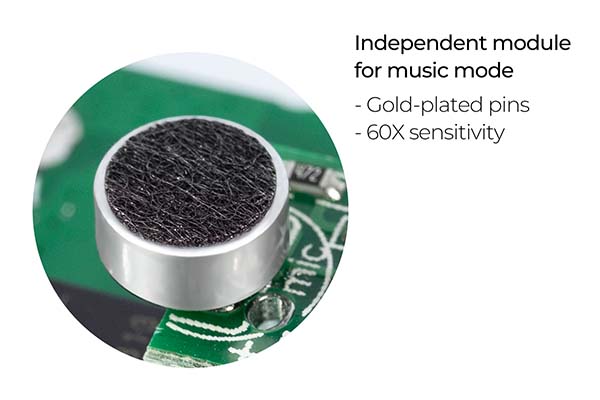 With an independent sound picker and gold-plated pins, the kit can better follow the rhythm of your music.
7. Specifications, Functions and Features
1). Material for LED strips: Extruded silicone
2). LED model: SMD RGB 5050
3). Input voltage: DC 12V (Workable between 10-15V)
4). Wattage: Maximum 48 watts
5). Warranty: 1-Year limited warranty
6). Control method: RF remotes, effective within 30 ft
7). Working temperature for all parts: 30 °F – 120 °F
8). Music mode
9). Turn signal
10). Brake light
11). Self-protection
12). 18 preset solid colors
13). Special lighting effects: flash, strobe, fade, and smooth (breathing)
Items in the Sales Package
1). 4 x 12.7" daisy-chain LED strips
2). 4 x 12.7" single-sided LED strips
3). 4 x 8.7" daisy-chain LED strips
4). 2 x 8.7" single-sided LED strips
5). 4 x 4.7" single-sided LED strips
6). 4 x 1-2 way splitters with fast locking connectors
7). 4 x 1-3 way splitters with fast locking connectors
8). 6 x 24" extension wires with fast locking connectors
9). 1 x DC 12V control box with a kill switch
10). 2 x RF remotes (Key fob + flat remote)
11). 1 x double-sided adhesive for the control box
12). 1 x velcro stickers for remotes
13). 3 x T stripping-free connectors
14). 2 x ring terminals for power supply
15). 1 x instructional booklet